St Heliers School Fair and Miss Bavin is 1st dan!
Hi everyone
Congratulations to Miss Bella Bavin, who completed her grading to 1st degree black belt on Thursday 4 April.
Miss Bavin has trained at Glendowie for seven years, since she was a wee girl, and she is a wonderful person (her brother and parents are wonderful, too). I am very excited to achieve this goal. Not only is Miss Bavin good at Taekwon-Do, she is also tremendously helpful – she had no trouble meeting the requirement to assist a class for six months!
Congratulations, Miss Bavin!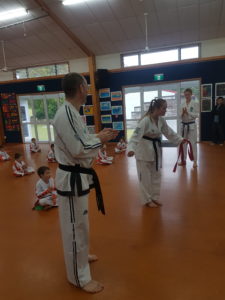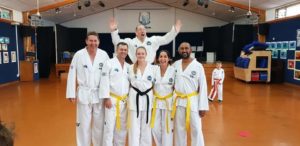 On Sunday 31 March, we held a stand at the St Heliers School Fair. Dr Valles arranged a demonstration with the Boosabum Development Squad and our young yellow belt team, and Mr Bayogan stepped in to help at the last moment.
We had many other students and parents help us at our stand. Thank you very much to Mrs Suze Oh, Mrs Anderson, Mr Dunningham, Mr Harradine, Mr Stevens, and the other awesome people who helped!